a ring sizer so you can find out your size before you make a big purchase.
what is gold filled?
Gold filled consists of a base metal bonded with a layer of gold over top. gold filled is legally required to contain 5% or 1/20 gold by weight. All the gold filled jewelry that we carry is 14k yellow or rose gold filled. meaning, all the gold that is bonded was 14k solid gold to be gin with. This can be described as either 12/20 gold filled, or 14k gold filled. Please see the diagram below to get a better idea of what we mean. Also note that it isn't to scale, just an example to explain the idea.
what is the difference between gold filled and gold plated?
Gold filled has almost 100 times more gold than gold plated jewelry. Gold filled is much more durable and will not chip away like gold plated does.
what is the difference between 10k and 14k solid gold?
10k gold contains 41.7% gold and 14k contains 58.3% pure gold. 10k gold is stronger than 14k gold. Other metals have been added to pure gold to strengthen it.
what is the difference between white, yellow, and rose gold?
Pure gold is pure yellow. Other alloys are mixed with gold to change is colour and strength. White gold usually contains 25% nickel and zinc. To make rose gold copper is added.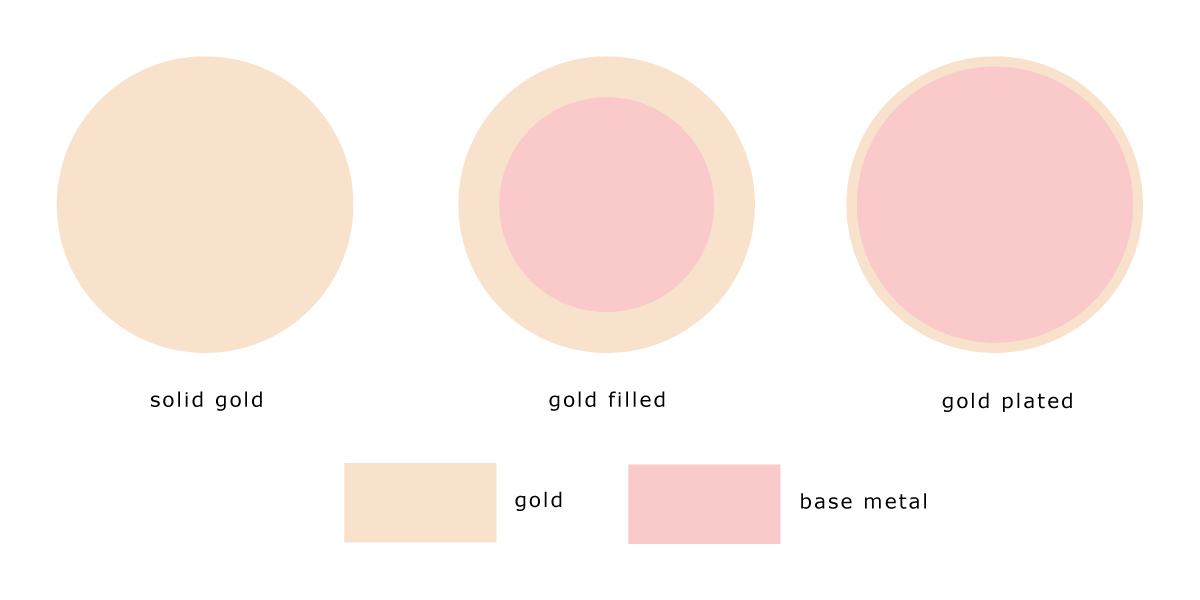 will this jewelry leave green marks on my skin?
On very rare occasions gold, gold filled, and sterling silver can leave green marks on the skin. This is not because it isn't real, it's because the alloy added to these metals can sometimes discolour the skin, usually because of the copper that is added. Everyone is different and everyone reacts to metals differently. It can also depend on moisture, sweat, and lotions used that will cause a reaction with the metals on the skin.
why don't you make everything in rose gold?
We have a select amount of studs and rings in rose gold filled. All these pieces have solder marks that are hidden so we use yellow gold solder in these instances. We have an out of house manufacturer where we get our rose gold filled endless hoops and simple stacking rings. The reason we don't use rose gold solder is that we haven't been able to find one that doesn't contain cadmium. Cadmium is a carcinogen similar to lead which has been linked to cancer, damage to the lungs and kidneys and weaken bones. We choose not to solder with cadmium as the fumes are toxic.
how do I care for my jewelry?
Keep your jewelry in a box or bag to keep it from discolouring or tarnishing. If your jewelry does change you can wash it with dish soap and water by gently scrubbing with a toothbrush. Please steer clear of applying moisturizers and lotions when wearing rings, bracelets, and necklaces. It is best to refrain from wearing jewelry while bathing and swimming.
sterling silver: 92.5% silver and 7.5% other metals (nickel free)
14k yellow gold filled | 14/20 yellow gold filled: 5% pure gold
14k rose gold filled | 14/20 rose gold filled: 5% pure gold
10k yellow gold: 41.7% pure gold
14k yellow gold: 58.3% pure gold
Our jewelry is all nickle free, however sometimes in the manufacturing of the raw materials there could be some cross contamination present. If you have a severe allergy to nickle or anything other than copper, zinc, silver and gold please keep in mind that the gold filled and sterling silver might have trace amounts which could cause a reaction.
Solid gold is your best friend in these cases!
If you have any questions that weren't covered here please don't hesitate to contact us.
| ring sizing |
You have a couple options to try and find out your ring size:
You can go to a jeweller near by and get your ring sized for you, this will get the most accurate result.
Purchase a ring sizer from us, which will only set you back $4 plus shipping and is a great way to size your finger yourself.
Measure yourself by taking a piece of string, wrapping it around your finger and measure it against the chart below. (the least accurate)
*Please make sure you measure correctly. We are only responsible for sending you the ring in the size you provide us. With thin band rings if your ring is too big it can bend and warp. It is easier and cheaper to make a ring slightly bigger, so if in doubt order it a bit small and a re-size will only cost the price of shipping. If you've ordered incorrectly please let us know and we can work something out.  
| necklace sizing |
All of our gold filled necklaces come with an extender chain. Most of our necklaces are 16" with a 2" extender chain. Our chokers come in 12" with a 3" extender chain. Please see the chart below to get an idea of how those would fit.